An Aussie Christmas Dinner in London
Oh, Crackers! Is it Christmas Already?
Not Quite, but we're already getting excited!
Enjoy our unique take on the holidays as you indulge in our chefs ever so carefully crafted menus, whether you're here for festive Christmas drinks or a full-blown sit-down meal. Have a look at our Christmas Brochures below!
Celebrate your Christmas Dinner in London with an Aussie Twist!
Classic Christmas Dinner - Lantana Style
At Lantana, we bring a slice of Australian Christmas to London, infusing our menus with a distinctive Down Under twist. Expect an explosion of unique flavours and innovative pairings, all carefully curated to bring warmth and joy to your festive celebrations. Suitable for groups of eight or more, our Christmas menus feature a delicious array of options for everyone.
Enjoy a Delicious Christmas Dinner and drinks this festive season with Lantana's special Christmas offerings, crafted meticulously across our prime London locations - London Bridge, Fitzrovia, and Shoreditch. Whether you're planning festive drinks and nibbles or a full-blown sit-down meal, we've curated menus to suit every celebration in the spirit of Christmas, Lantana style!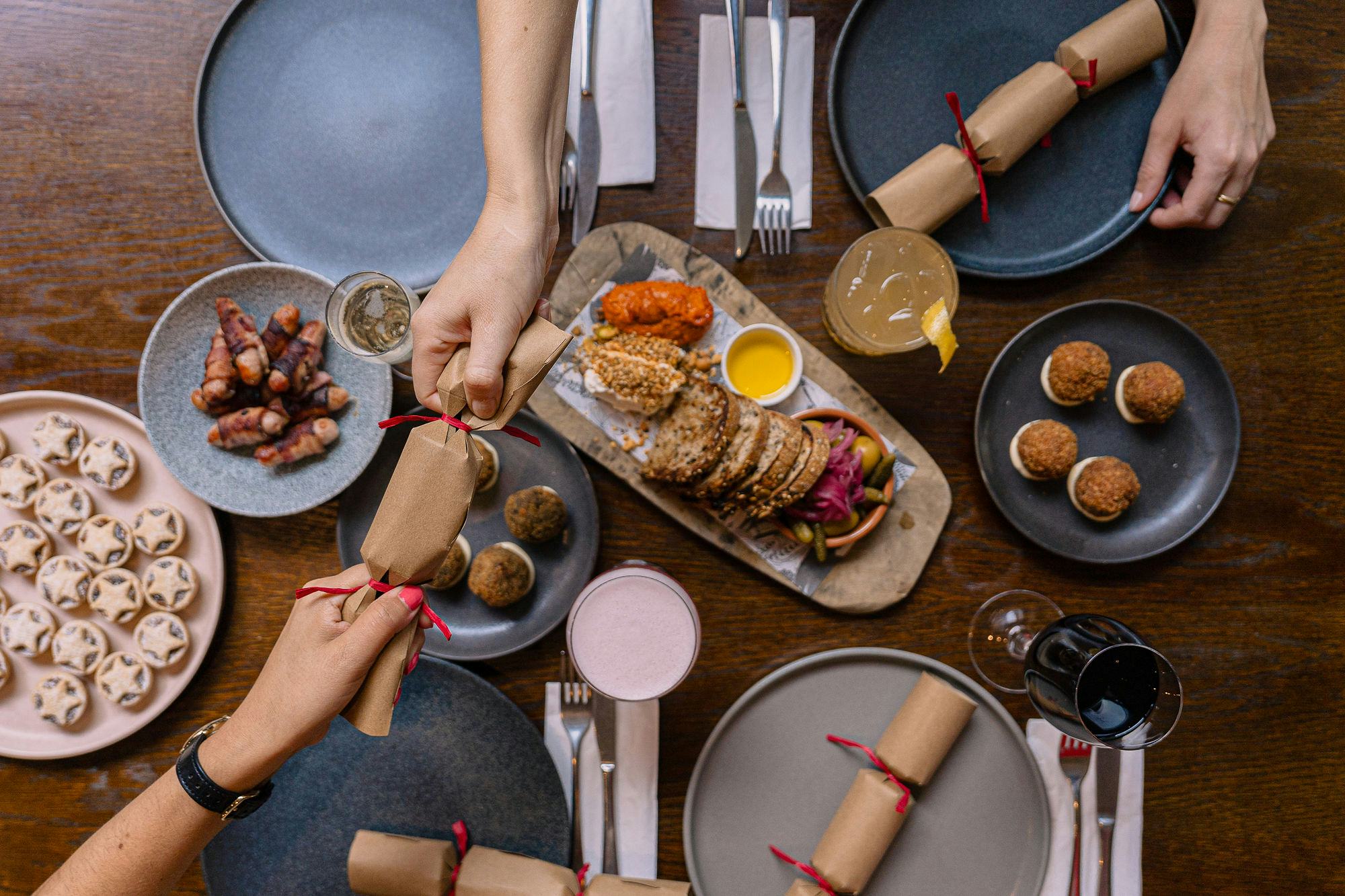 Hearty & Heartwarming Christmas Mains
Indulge in a heartwarming feast with our traditionally festive offerings like the Twice-Cooked Roasted Potatoes and the iconic Brussel Sprouts and chestnuts. With main courses like Baked Salmon Fillet and Pork Belly, our set menus ensure a range of flavours on every plate.
Wine and Dine in Style
Raise a toast to the joyous season with our exquisite selection of wines and beers, spanning from the light and effervescent Prosecco, Bella Retta from Venito, Italy, to the robust and organic Al Sur Natura Tempranillo from La Mancha, Spain
Vibrant Canapes and Bites
Explore a vibrant selection of canapes, available in quantities of 20, spanning from savory meat and fish options like Pigs in Blanket and Sesame Ginger Prawns to vegetarian and sweet bites like Mushroom Arancini and delectable Brownie Bites.
Festive Vibes Across London
London Bridge: Revel in the expansive space of our entire lower floor, accommodating up to 40 guests, perfect for a grand celebration.
Fitzrovia: Experience an intimate gathering at the 'Chef's Table,' ideal for up to 10 people, ensuring a cozy and memorable dining experience.
Shoreditch: Explore our versatile, semi-private spaces, suitable for various events, tailored meticulously to your group size and preferences.
Hassle-Free Bookings
With no hire fee, enjoy a stress-free booking experience with a nominal pre-auth deposit per head. Your card will only be charged if the reservation is not honored or is canceled with less than 48 hours' notice.
Discover more about what each unique location has to offer and dive deeper into our festive menus by exploring the individual brochures available for download below:
Christmas Dinner Reservations